Ryo Okubo, Giftee Malaysia's Chief Operating Officer, discusses giftee's operations in the region and the company's future plans in this interview with MartechAsia.
Founded in 2010, giftee Inc is a Japan headquartered eGift platform that provides a total end-to-end solution from eGift issuance to distribution. The company was listed on the Tokyo Stock Exchange Mothers board in 2019 and transferred to the First Section of the Tokyo Stock Exchange in December 2020. In 2018, the company set up a subsidiary in Malaysia entitled Giftee Malaysia (with capitalisation). In 2021, a new joint venture was incorporated between Giftee Malaysia and marketing communications company, Mekong Communications (a member of Mekong One) to expand the eGift solution in Vietnam.
Currently, Giftee Malaysia has launched two out of the four available solutions in Japan: eGift System service (consumers) and giftee for Business service (for companies). Giftee Mekong has started with giftee for Business service in Vietnam.
We spoke to Ryo Okubo, Giftee Malaysia's Chief Operating Officer, to learn more about Giftee's operations and the company's future plans.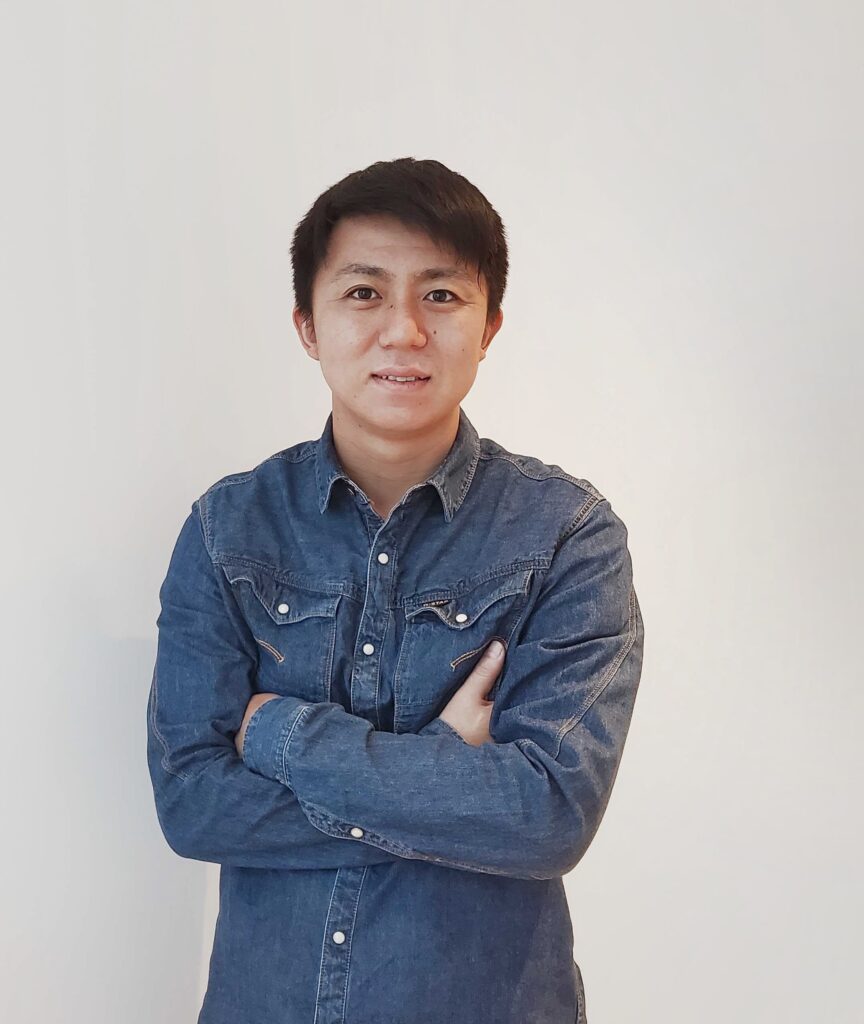 How did the idea of starting Giftee Malaysia take birth? Was there a fertile ground for it or was there an emerging demand for it?
giftee Inc. was founded in Japan in August 2010 and is currently moving into ASEAN through Malaysia, 8 years on as we have seen the global demand of eGift increase year-on-year. Just earlier in July 2021, we had expanded to Vietnam via our joint venture, Giftee Mekong, with Mekong Communications.
Based on our recently published Q1 FY2021 results, giftee Inc achieved high growth in both net sales and profits due to continued strong performance, facilitated by companies shifting business activities from offline to online, and we hit a quarterly record high in Q1 distribution volume.
Distribution Volume: ¥ 4 billion (+ 76.2% YoY)
Net sales :¥ 1,093 million (+ 141.9% YoY)
EBITDA : ¥ 571 million (+ 301.5% YoY)
With eGift System Service, the brands can utilise a C-to-C platform to sell their products as eGifts. As a customer sends an eGift to a first-time user, this enables the brands to reach new customers and potentially expand the market and generate more revenue. Additionally, giftee for Business Service provides a B-to-B platform where the brands could market the products to companies to be used as eGifts in their incentive campaigns. This would generate new distribution channels to increase revenue significantly.
Back in 2012, Brian Riley, an analyst at CEBTower Group estimated that given the growing penetration of smartphones, social networks and the advancements of mobile payment technology in Asia, social gifting is reaching an inflection point in the region and will present huge opportunities for social gifting platforms. There is optimistic potential for the growth of the eGifting industry in Southeast Asia.
This is an extremely rough estimate but based on the relative GDP growth of the SEA and the size of Japan's digital gift market (USD2.1B), the digital gift market opportunity is about USD1.38B in Southeast Asia which we expect to increase in the years ahead, especially with the acceleration of digital transformation within the region.
giftee had implemented the first overseas project with Sushi King Sdn Bhd, a chain of Japanese cuisine restaurants, in May 2018, as we believed that there would be a huge potential for the eGift market in Malaysia which we could access with this partnership. According to Google's eConomy SEA report, SEA's internet economy did indeed hit an inflection point in 2018 – the same year we entered the region and established our first presence in Malaysia.
Malaysia's market size for the gifting industry is estimated at US$1 billion to US$3 billion (RM4.1 billion to RM12.4 billion) which accounts for one-third of the industry size in Japan. That said, factors such as Malaysia's dynamic growth in GDP, high proficiency in English, high smart devices penetration rate (93%) as well as culturally diverse landscape creates fertile conditions for Giftee Malaysia. Furthermore, Malaysia offers a plethora of opportunities for our eGifting platform, from festive seasons such as Hari Raya and Lunar New Year to special occasions such as birthdays and others.
We noticed that, until now, digital gifting is not widely adopted in Malaysia. However, there is a lot of potential for Giftee Malaysia to enter the market with a first-mover's advantage. For instance, the e-wallet adoption rate and frequency of use is higher in Malaysia than in Japan. In this regard, Japan is still catching up with Malaysia, and perhaps may even use Malaysia as a case study as Malaysia's digitalisation speed is faster than Japan, and in my opinion, is the fastest nation to adapt to digitalisation in the Southeast Asian region.
We also noted that many Malaysian companies want to digitalise their gifting services as part of their digitalisation transformation roadmap but do not know how to go about doing so. For instance, the conventional promotional campaigns use physical vouchers and manpower is required to distribute paper vouchers. It can be difficult and tedious to track paper vouchers when it comes to distribution and redemption. This is where Giftee Malaysia comes in.
Our eGift system makes tracking easy as inventory management, shipping, printing and manpower for physical distribution are no longer required. Thus, the cost to launch a promotional campaign is lowered.
The onset of the pandemic as well as the extended MCO has made consumers, retailers and companies realise the value of digital gifts and digitalising businesses.
How is e-gifting different from e-vouchers, etc? How does it work?
An eGift is an electronic ticket that can be exchanged for a product or service at a restaurant, café or other retail outlet.
The recipient simply presents the received eGift ticket at the appropriate retail outlet to exchange it. The ticket is redeemed the instant it is processed at the retail outlet, which prevents reuse of the ticket.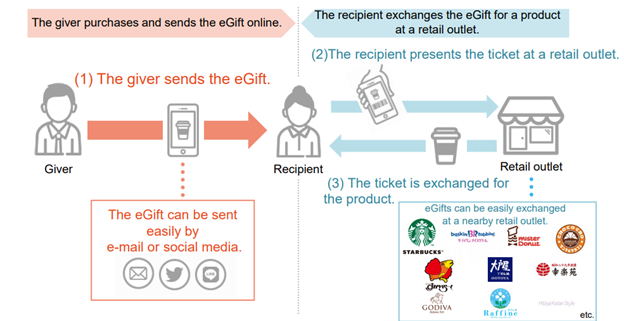 Giftee Malaysia aids in digital transformation of businesses in the nation, which is one of the economy's main goals at the moment. We do this by providing an end-to-end platform that simplifies all technical aspects of implementing eGifting, while catering to the business's specific needs. While eGifts are a substitute for physical gift cards or paper vouchers, they come with greater advantages, as illustrated above.
Currently, Giftee Malaysia has launched two out of the four available solutions in Japan: eGift System service (for retailers) and giftee for Business service (for companies).
Our eGift System service enables retailers to generate and distribute gift tickets or e-vouchers that can be exchanged for goods at their stores and sell these gift tickets on their own website. Presently, 17 brands(as of the end of July) including companies such as Secret Recipe, Tealive, Family Mart Malaysia and Baskin Robbins have implemented this service.