Advantages of eGift System
Our platform has high distribution volume and a large number of distribution partners. Using this platform enables restaurants, cafés, distributors, retailers, etc. to develop demand for their gift products.
Boosting of operations efficiency

giftee offers one-stop handling of all steps from eGift issuance to distribution and retailers no longer have to rely on a tedious practice of using paper distribution

The use of the standardised ticket requires minimal staff training and is fuss-free for both consumers and retailers
Our giftee for Business service enables companies to send eGifts to customers, as campaign gifts or as a reward for completing a survey. We currently work with more than 83 companies (as of the end of July, across banking, consumer electronics, insurance and internet industries, such as Maybank, Prudential, Samsung and Lazada, to help with their marketing and promotion activities with our e-vouchers and promotion solutions.
Advantages of giftee for Business
Reduction in promotional campaign costs

No inventory management is required and shipping, printing and personnel costs are reduced.

The number of winners in giveaway promotions can be maximized with no increase in cost

Small incentives as little as RM10 can be offered to enhance participation in promotions

Phased promotions become possible to improve participant's motivation to hit certain milestones such as online sign ups, or completing a survey.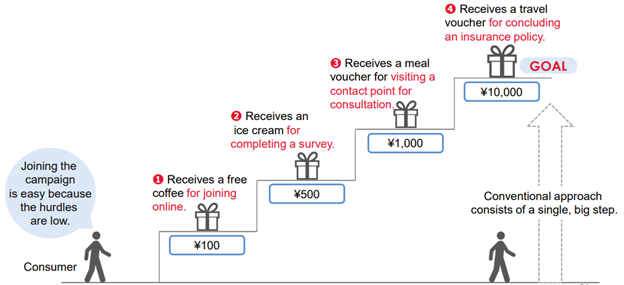 Does eGifts tap into the Asian culture of gifting and represents a year-round opportunity for retailers to uplift sales, especially during the pandemic? Which sectors in Malaysia are most interested in e-gifting? Any success stories of collaboration so far?
The casual gifting industry represents an enormous opportunity for companies, especially F&B and retailers, not just at holiday time but throughout the rest of the year. This is even more so in Asian countries where there is a gifting culture.
However, the physical gift card industry in Malaysia has been greatly impacted by the pandemic, despite growing steadily by almost 20% from 2015-2019. However, the decline of physical gift cards has led to an accelerated adoption of eGifts, and it is expected to increase significantly well into 2022.
eGifts are a unique and exponential marketing opportunity to touch two target consumers at once – the gift buyer who makes the purchase and the receiver of the gift. Ultimately, e-gifting is a form of word-of-mouth marketing but delivered in a concrete manner through the medium of eGifts.
eGifts are also an increasingly popular option among Malaysian consumers and companies. Gift giving is as simple as sending a URL to the recipient. For companies, this translates to campaign cost reduction (see response from Q2). Additionally, the fact that there's no physical products to transport which contributes to reduced CO2 emissions from logistics services as well as reduction in packaging waste are appealing factors to the increasingly environmentally conscious Malaysian consumers.
Although we work predominantly with the F&B industry for our eGift system service, there is opportunity for us to work with other industries whose products and services would make good gifts. These gifts could also come in the form of experiences such as spa treatments as a wedding gift or scuba-diving trips for friends who enjoy the outdoors.
For our giftee for Business solution, this is industry-agnostic as companies across a wide-range of industries would generally embark on marketing and promotional activities and can leverage on our eGifts as a way to enhance participation in their campaigns or show their appreciation to their own customers and clients in a fuss-free way.
In Japan, it started off initially with the F&B coming onboard and followed by the retail industry to a total of 157 brands currently onboard. F&B:Retail=2:1)So we believe the same trend of development would happen in Malaysia.
As Malaysia embarks on its Malaysian Digital Economy Blueprint to transform into the region's digital pulse, companies in Malaysia have also begun to embark on their digital transformation roadmap. In order to meet changing consumer needs in a pandemic era, companies have been quick to adopt digitalisation initiatives.
To use Secret Recipe as a case study, Secret Recipe is recreating the gifting experience digitally by implementing Giftee Malaysia's eGift system in a time where distance separates loved ones. Many Secret Recipe customers purchase their cakes as gifts. However, as lockdown measures strengthen, physical exchanges are almost impossible. As such, sending an eGift with a personalised message is the new norm and this practice allows Secret Recipe to recreate that experience for their customers and keep the virtue of gifting alive in spite of the current situation.
According to Patrick Sim, Director of Secret Recipe, he has said, "As we dive into digital solutions for Secret Recipe, we found that eGifting is viable, and almost tailored, for a large segment of our customers who buy cakes to celebrate an occasion or simply to express affection to their loved ones. Giftee Malaysia supports this newfound aspect of our digitalisation very smoothly. The eGift system is extremely convenient to use, with minimal training required for our staff members. The personalised messages in the digital cards are uplifting as well, especially during the MCO when Malaysians were focused on spreading positivity to their loved ones."
Brands that already have their own physical gift cards would see a new avenue to expand digitally in the C2C space. However, the incentive of increased distribution volume through B2B where companies are able to utilise these eGifts in their incentive campaigns is more significant.
We also noted that many Malaysian companies want to digitalise their gifting services as part of their digitalisation transformation roadmap but do not know how to go about doing so. For instance, the conventional promotional campaigns use physical vouchers and manpower is required to distribute paper vouchers. It can be difficult and tedious to track paper vouchers when it comes to distribution and redemption. This is where Giftee Malaysia comes in.
Our eGift system makes tracking easy as inventory management, shipping, printing and manpower for physical distribution are no longer required. Thus, the cost to launch a promotional campaign is lowered.
Furthermore, our eGifts expiration dates are approximately between 3 months and 6 months, this means that the recipients can use the eGifts that they have received at the physical outlets even after the MCO. That said, there is that option to have their eGifts delivered at their convenience if the brands are listed on third-party delivery services such as GrabFood or foodpanda or if they have their own delivery service.
Additionally, our eGift Systems allow for advance payment for the brands since they can receive earnings when the senders purchase these eGifts during MCO and would help their financial situation and tide them through during MCO.