At a time when the macroeconomic environment is uncertain, tech companies reducing costs and consumers becoming more skittish, marketers are increasingly under more pressure to deliver a greater ROI.
Brands are also focussing more on their returns on advertising spend, with a greater emphasis now on performance and data and insights on every single campaign and channel becoming more critical than ever before.
In the third of three interviews with Martech companies on how they are navigating an uncertain 2023, MartechAsia talks to Jimmy How, Founder and CEO of performance marketing technology company Involve Asia, to understand how he sees marketing and advertising budgets impacted, the need for creativity and diversification when planning an affiliate marketing strategy and why the engagement with influencers remain even more pivotal today.
With big tech companies cutting costs and fears of a slowdown, how do you impact the APAC digital advertising outlook in 2023? How are performance-marketing budgets being impacted?
The digital advertising industry in APAC has been growing rapidly in recent years. This growth is driven by numerous factors such as the rise in internet penetration, mobile usage, and the overall shift toward digital channels. The pandemic has left a long-lasting impact on the digital landscape, especially in terms of digital advertising.
In the current scenario, the industry is all about balancing both short-term and long-term goals thereby giving rise to flexible models that give brands the fluidity to adapt as their business needs evolve. It is apparent that marketers want more options, especially in matters of advertising commitments, budgets, campaign scheduling, and media costs. They are looking at factoring in a full budget but with high flexibility to cut as the recession kicks in.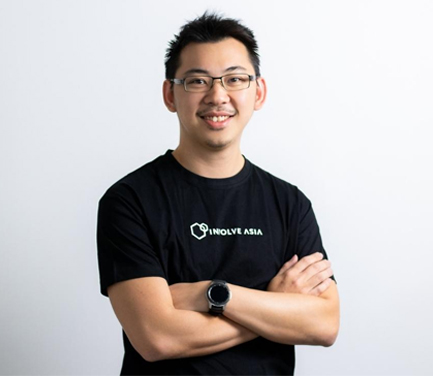 With that in mind, performance marketing has been a key component in generating growth as businesses introduced their services online. Performance marketing has been the backbone of many brands, helping them to attract the right audience in the midst of challenging market conditions. Moving forward, APAC's digital advertising outlook will develop significantly in all markets as they gear up to a fresh and sustainable mode of relating to their end consumers.
What is Involve Asia doing to navigate this uncertain climate?
We are in a great position to invest and step on the gas while many are focused on consolidation and preserving cash. A number of industry-changing products are ready to be taken out of beta and will hit the market very soon. We have plans to scale even more rapidly and to take the opportunity to invest in companies that best complement our business.
What changes or strategies should marketers adopt to stay competitive? How can they continue to drive traffic and businesses to their platforms?
Focusing on creating new experiences for consumers that are hyper-personalized and seamless in their approach. By utilising data trends and insights, marketers can stand out in the competitive environment to best target their audience through different demographic approaches. Weave in evolving technologies in their day-to-day campaigns.
We live in a world that is constantly changing and growing. By experimenting with new technologies like AI, and fresh social media channels, marketers can test and try holistic methods of reaching out effectively in communicating with their audiences
What do you see as the affiliate marketing trends driving growth this year? Are brands now turning to video and podcasts or working with SEO partners offering a more long-tail search?
KOLs and influencer marketing – This has been the biggest trend and has proven to be extremely successful in new campaigns/product/service launch :
Audiences place more trust in these individuals who are opinionated and act as brand ambassadors
Influencers who have a high following paired with equal engagement rates can help to accelerate marketing initiatives quickly
With social media here to stay, there is a bigger need to utilise their talents and resources to the company's advantages
Ability to tap into micro-communities with highly relevant content from trusted sources.
Diversification of our partners: We are looking to diversify our affiliate partners and seeing a wider spectrum of affiliate marketing partners like podcast creators, SEO creators, and e-commerce players which allows brands to reach a wider audience and tap into niche markets.
Being creative with who we define as affiliate partners, for example, we're seeing internet providers partnering with e-gaming companies and home appliance brands partnering with interior designers as affiliates. Typically, people see affiliates as websites or influencers, however, almost anyone can be a relevant partner.
How important is influencer marketing in this new digital economy? Do you see a greater reliance on micro/nano influencers and a greater focus on performance?
Influencer marketing has become essential as consumers are looking for more authentic and personalized experiences with brands. This segment of individuals can exponentially tailor content to approach end consumers in a more relatable manner. Currently, in the media landscape, there is a mixture of micro and macro influencers – knowing and strategically picking which influencer is suitable for campaigns can help in decision-making for marketing success. Key metrics such as clicks, conversions, and sales and data can also help optimize their campaigns for better performances
What do you see as the key trends driving the market over the next few months?
There is a much higher emphasis on performance in the industry than ever before. With data and insights on every single campaign and channel, brands are focusing more than ever on what their return on ad spend is. Digital authenticity is becoming a lot more important to both brands and consumers.
With technologies like generative AI, consumers are becoming a lot more sensitive to what they consume online and have begun questioning a lot of information they've seen online, much more so than before. This drives the demand for more influencer-produced content.
We see AI becoming the biggest disruptor in this space, both from a consumer perspective as well as an industry perspective. Ad targeting via AI will save brands millions in irrelevant traffic and AI-generated content delivered seamlessly will drive significant referrals to certain brands and products.