In this interview with MartechAsia, Hua Fung Teh, Group President at ONE, explains how his company ONE Championship (ONE), the largest global sports media property in Asian history, manages to optimise video and connect with fans globally at a time when physical events have become a difficult proposition.
The sports industry has been hit hard by the Covid-19 pandemic, and finding new ways to carry on and engage with fans virtually has been at the top of mind for all sports clubs and media companies around the world.
To that end, ONE Championship is betting heavily on video to keep its superfans engaged, and score new ones. Most recently, they entered into a partnership with Brightcove to deliver interactive and high quality live and on-demand video content on their ONE Super App.
The ONE Super App supports the company's overarching content and marketing strategy to drive deeper engagements and grow its loyal fanbase. For instance, the ONE Super App is home to ONE TV, which houses a treasure trove of live and on-demand content for fans to catch the world's greatest action across mixed martial arts, Muay Thai, kickboxing, and more.
Data-driven mass customisation is also a key ingredient of their fan engagement strategy, as they leverage video analytics to provide a hyperpersonalised experience through thematic playlists, video recommendations, and in-app alerts about the latest news on their favourite world champions and athletes.
In this interview with MartechAsia, Hua Fung Teh, Group President at ONE, explains how his company ONE Championship (ONE) manages to optimise video and connect with fans globally at a time when physical events have become a difficult proposition.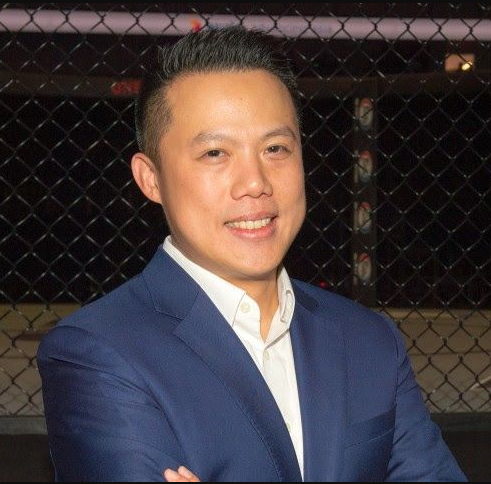 Please tell us a little bit about ONE Championship and its traditional business model. Give us a sense of your business' scale.
ONE is the largest global sports media property in Asian history. Headquartered in Singapore, ONE is the world's largest martial arts organisation, hosting bouts across all styles of martial arts such as mixed martial arts, Muay Thai, kickboxing, and more. ONE hosts the biggest sports entertainment events across Asia, featuring some of the world's best martial artists and World Champions on the largest global media broadcast in Asia. In addition to its digital platforms, ONE Championship broadcasts across more than 150 countries with some of the largest global free-to-air and digital broadcasters. According to Nielsen, ONE ranks amongst the world's top 10 biggest sports media properties for viewership and engagement.
With ONE Esports, ONE is now Asia's largest producer of millennial sports content. Through its marquee sports properties (ONE Championship and ONE Esports) and its passionate millennial community, ONE produces content around Asia's greatest cultural phenomena, Martial Arts and Gaming.
How has the pandemic impacted the company's traditional business model? What has been the impact on your events and operations?
The pandemic has been challenging for all types of businesses and although COVID-19 has limited our ability to hold live events and competitions in various countries due to travel restrictions, the team has adapted creatively to continue to bring sports entertainment to our fans.
For example, we have worked very closely with the Singapore government to host closed-door events and ensure a safe and strict travel bubble for our athletes and officials. We were also the blueprint for Singapore to pilot test the reopening of entertainment events by allowing 250 fans to attend a number of live shows in late 2020. ONE Esports has pivoted to hosting online tournaments as the esports industry continues to flourish during the pandemic. Our shoulder programming and verticals such as the athlete "Stay at Home" features offered fitness and lifestyle content, during a time when home workouts became popular. These and other content stacks broke viewership records as hundreds of millions of fans stayed indoors and were seeking inspirational content.
Overall, we are pleased to announce that despite the pandemic, the recent Nielsen report showed that ONE Championship ranks #4 overall in total video views, with over 6.1 billion across Facebook, Instagram, and YouTube, just behind the UFC (#3) and the NFL (#2). This proves that despite the challenges in hosting live events, we have been growing in terms of numbers with our brand of martial arts and gaming content.
Did you have to take any special steps to turn the business from delivering live experiences to virtual experiences?
The first thing we recognized is that while we were limited in delivering live experiences to our fans, we still had to meet our fans' content demands in other ways. We had to ramp up our daily engagement with our fans through other means, particularly using video across our multiple channels and platforms – including social media platforms, YouTube, and our own ONE Super App. As mentioned, we organised ONE Esports tournaments online and worked with many of our athletes to continue to shoot online videos and repurpose pre-recorded content to continuously engage with our fans. Our closed-door events are also available on our ONE app as well as our official social media platforms. Although fans could not watch fights live at the venue, they are still able to enjoy pre-recorded fights in the comfort of their own homes. All of our video content is hosted on Brightcove, which provides us with a robust online video platform to deliver high-quality and reliable video streams, and flexibility to scale according to our growth across the region. While it's been less than a year since implementation, the results look promising – content management time has been cut by half, and video watch time has increased by 300 per cent.
How do you see the role of video and other virtual technologies in the events industry?
Increasingly, many events today – even those that are physical events – provide a live virtual option through live video feeds. We expect the trend to continue, as event organisers continue to optimise for distribution over physical attendance. The pandemic showed us that holding events without an audience is possible – and in some cases even beneficial for users – as fans may not always be able to attend live events in the stadium because they live in a different country. They can always dial in and be "present" using virtual audience technologies. I also believe that as we continue to shift further into the virtual space with globalisation, various new opportunities will continue to open for companies, as they explore and capitalise on the unlimited possibilities presented in the advancing and vast virtual world.
How do you keep your fans engaged through your platforms across more than 150 countries?
By consistently releasing and launching a steady stream of localised video content for our fans across all our platforms. Even if we do not have new live content due to the pandemic, we have built up a tremendous library of archival content that we can re-edit, re-use and re-purpose across our platforms to engage fans. And the strategy has been working well for us so far. According to Tubular Labs, we are now the second-most viewed global cross-platform creator in sports.
As Karl Deisseroth, the pioneering American neuroscientist said recently, "Coronavirus has affected us all and it has changed us all. There's no doubt about that." Human beings being action-loving social beings, how do you see the future of the events industry (including sports) evolving in the post-Pandemic world?
Post-pandemic, there will be continuous demand for more creative virtual and digital content as it is now being offered to fans. For example, this year to drive more viewership, Oscar fans were treated to behind-the-scenes "access," where they could watch their celebrities backstage, at the pressers, etc. Similarly with sports, fans would expect to also be able to see these behind-the-scenes moments with athletes. At ONE Championship, we have extended our content to feature some of these moments as well. And these are content that we must constantly create and improve on to continuously engage and satiate fan appetite.
Therefore, distribution and access will continue to be the main focus for events. Event organisers will realise that even if they are holding an event locally, there will still be someone remote that would want to experience the event in real time with everyone else even if they are unable to be there in-person. The marginal cost of technology to provide remote access is now low enough that it makes sense to always prioritise inclusiveness and access.