In this interview with MarTechAsia, Christopher Wiseman, Head of Marketing Technology Practice at ADA, discusses why marketers need to re-examine their approach to MarTech and what is the best way forward.
In many ways, COVID-19 was the spark that brands across Southeast Asia needed for a wholehearted embrace of digitalisation and digital marketing. The events of 2020 led to a surge in the adoption of marketing technology (MarTech) in what looks to be a permanent move up the innovation curve. Yet a jarring disconnect remains. According to Gartner, marketing leaders were utilising just 58% of their MarTech stack's potential in 2020 – unchanged since 2019. The reality is that adoption of new technologies alone, if not accompanied by a cohesive and outcome-driven strategy, will not bring about the much-hoped for digital transformation. In this interview with MarTechAsia, Christopher Wiseman, Head of Marketing Technology Practice at ADA, discusses why marketers need to re-examine their approach to MarTech and what is the best way forward.
ADA is a data and artificial intelligence company that designs and executes integrated digital, analytics, and marketing solutions.
Tell us a little bit yourself. You have had a long journey through agencies, the world of UX, and building a gaming company of your own. What is your current role and what is a typical day like for you?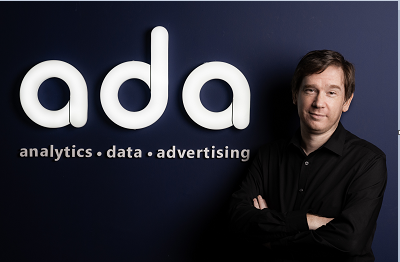 I came to Asia about 13-14 years ago when I helped a videogame company set up their digital marketing, having worked in the European division then. I have always loved Asia, so it was natural for me to stay on after my secondment. I was given the opportunity to work in the digital agency industry and jumped at a chance to work in XM Asia (Mirum) on Nokia. I then worked at Ogilvy for close to 9 years, first as a digital consultant and later to build up a CX / UX (Customer Experience/User Experience) team from the ground up for Asia. An interest in seeing the strategy fully executed as well as how it translates for the end customer, got me into user experience. As the division grew, I increasingly worked with many types of marketing technology starting with Content Management Systems (CMS) such as Sitecore, Adobe, Acquia, but over time, we got into marketing automation, Customer Relationship Management (CRM), and ecommerce.
This made me want to work in a product company so I could learn more about the marketing technology, which I got to do in Sitecore. After that I got the chance to build my own side business building my own video games.
Once I launched my first game, I wanted to get back into the industry and ADA offered a unique opportunity to build a MarTech business from the ground up. In ADA, I am essentially a founder or general manager of a new division dedicated to Marketing Technology. We work with clients to allow every company to reach their full growth potential utilising marketing technology end to end.
A typical day is varied when we are building up a division, working with clients and defining a new service offer. It can range from developing a business offer, to pitching our services to new or existing clients, collaborating with the internal team or broader ADA or working with technology partners. We also have a lot of work with our new investor Softbank at any moment. Whatever the focus on the particular day, it is really exciting, as we are building something that did not exist before in ADA and our ability to blend MarTech with media, data and AI is very rare in the industry.
How do you see the growing importance of MarTech in Southeast Asia, and how has the pandemic accelerated this trend?
Over the last 5-6 years, companies, whatever their size or maturity, have been acquiring marketing technology as they focus on going digital and driving more personalised effective marketing approaches. While this has happened at different speeds depending on the maturity of each market, as well as things like the strength of offline media and the availability of marketing technology that exists as cost effective, it is universally becoming more important for all businesses.
The pandemic essentially gave marketing technology a massive boost, by strengthening all the business fundamentals around adopting marketing technology. For example, marketing automation, Conversion Rate Optimization marketing (CRO), mobile and ecommerce have seen a massive increase in demand, simply because if consumers can't go to the physical store, they are going to be interacting with you on an online store or a mobile app instead. This has essentially raised the baseline for what good looks like, which in turn means even early adopters are looking at how to push themselves further which we are seeing with the use of areas like Customer Data Platform (CDP), CRM and loyalty.
Do you think that marketing leaders are not fully tapping into the potential of MarTech? Do they need to re-examine their approach?
Broadly we are seeing three or four key types of marketing leaders, but these are not mutually exclusive. We see marketers who are focused on their approach to building out an ecommerce presence and how to get the best from it. This covers not just the ecommerce website, but also their presence in marketplaces and the end-to-end media that supports it. They are usually focused on life-time value. We see marketers who are heavily focused on the adoption, usage and value generated from their mobile apps which usually act as both digital service platforms and also fold in loyalty or ecommerce. We also see marketing heavily focused on lead generation activities and also those focused on trying to unlock more value from their data either via a single customer view or using their data across a broader part of the company.
Whichever type they lean towards, there are still lots they can do, whether it is a build up from a low base or looking at micro-optimization of their current stack.
Typically, we see that they are continuing to evolve their approach to both be more long-term in terms of planning for new capability or outcomes, but also constantly questioning and optimising what they are currently doing to realise their business goals utilising the best of their technology, people and data.
What are the key trends that will push MarTech adoption higher in the years ahead?
The current drive to go more digital, be more personalised and more business-centric will continue. But there are a couple of areas we see continuing to drive adoption higher. These are mainly in areas that allow for a higher return on marketing spend as an outcome as well as integration between media and MarTech. This can take a short run approach or a more long-term angle. So, for example, we will continue to see companies push hard on driving CRO and marketing automation, but increasingly they are seeing it as part of a media approach, not independently. For the longer run, we are seeing a lot of interest in CDP and loyalty. The first to continue to drive more efficiency in everything a marketer does. The second, based on the old adage that it is easier to sell to an existing customer, than to a new one. Further down the line, we will see machine learning and AI becoming more capable, allowing for more automation of marketing tasks and voice becoming a more mainstream channel. Finally, I think the production of more personalised content for general marketing campaigns will drive more DAM (Digital Asset Management), creative automation and personalisation adoption.
Why taking a strategic, integrated, and ROI-driven approach can allow businesses to choose the "right" MarTech stack?
As the MarTech landscape becomes more fragmented and new technology players add more capability to their products, it will be key for companies to take a pause and start to question their current marketing tech stack and whether it is the right fits, as well as translate their business and marketing strategy into what their approach to marketing technology should look like. MarTech is no different from any other investment, it probably made sense at the time, but as the business, market and customers evolve and change, so will the underlying marketing technology stack required to support it moving forward. By taking an ROI driven approach, businesses can ensure everything is objective in terms of what is working, what is missing and what needs to be replaced.
Any advice to CMOs: top factors they should keep in mind as they plan for the rest of the year?
I think we are all in the same boat as we try to transition back to a new normal with a variety of challenges. But I would focus really on one area for the rest of the year, which is talent. I think whatever you are trying to achieve, it is great people that will make it happen. Given the challenges during covid, most people have stayed in their current company, but in recent months, we are seeing talent starting to take the leap to new opportunities as the world becomes a bit more stable. This will only increase as we continue through the year. This presents both a risk and an opportunity. If we look after our talent, they will stay and if we are also being a great place to work, it gives us a rare opportunity to attract great new talent that is usually hard to get hold of. For those that succeed in this, they will see a great opportunity to bounce back stronger as the economy recovers.