In this exclusive interview with MartechAsia, Neelendra Jain, founder of NJ Group, discusses Eagle, an innovative web-based AI platform for gathering customer feedback, and how it can help brands.
NJ Group, a service experience and hospitality solutions company, recently came up with Eagle, an innovative web-based AI platform that collects, monitors and manages customer feedback in the service industry. Using a real-time learning system, Eagle accesses multiple data points of customer engagement and feedback data every day. The AI-supported digital dashboard collects and analyses real-time customer data by taking a cognitive approach with people, predicting the required business arrangements in advance and suggesting service recovery immediately.
MartechAsia caught up with Neelendra Jain, founder of NJ Group, to find out more about the Eagle platform and how it can help brands.
How did the concept of Eagle come about? How was it developed?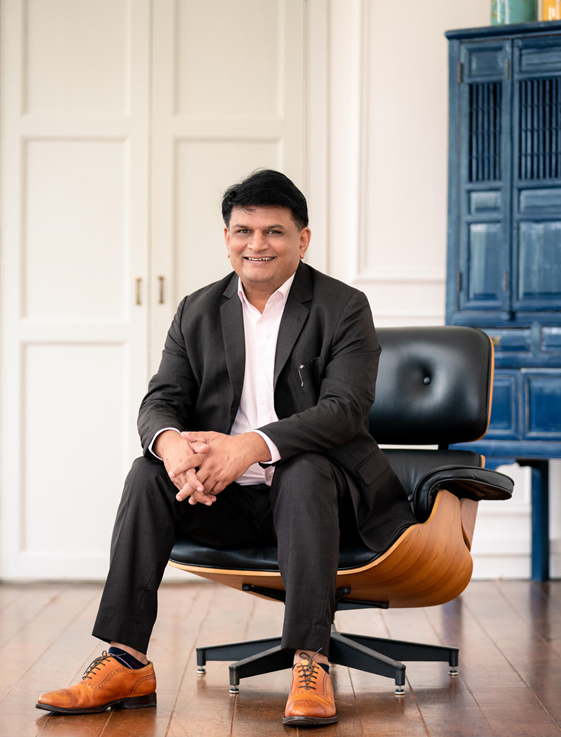 The ideation started at a very small level and the idea was copied from the public toilets digital feedback system, where while leaving the restrooms it asks you to share your experience by selecting any of the three buttons (red, yellow or green). We realized that this is the best way to collect the customer feedback as the guest is still in the restaurant. The customer feedback collection, tracking and generating some actionable improvement is the most important part of our business.
Though there are many ways through which we were collecting the customer feedbacks but unable to identify/solve the real problem of customer because of missing real information and no way to track the feedback of customer and ultimately, the pain point remains unidentified and the same mistakes repeated everyday, increasing customer frustration, bad reviews on social platforms.
The management is unable to plan their strategy to rectify this, unable to enhance the customer experience, unable to optimize their operations, though they spend so much of money and resources for defocused marketing. The key reason of such situation is unable to identify the real problem. If the problem is identified correctly, the solution is not a big deal.
Though the efforts required were much bigger than we expected and ultimately ended up with just brainstorming and no implementation. But with a number of rounds of discussions, when we could implement a few basic solutions which were designed in house and saw the business impact, we realized its potential and the enjoyment started increasing. And the real happiness was realised when the intelligence and passion started getting into realities, not only for the inhouse purposes but for the market solutions as well.
So, we never thought of it as a business when we started. It was more of passion being implemented for our own business problems. When we deep drilled into the size of such business problems in the market, it was repetitive and of huge size in the market. And it ultimately ended up as a business and even today, the objective to solve the problem with the power of smart technologies. Eagle is one of such examples, where the core mission is to enable the management to be able to identify the root cause of the problem and handle the service recovery on a real time basis. Enhancing service recovery is not an easy task but quite possible with the power of modern smart technologies.
What is Eagle's USP?
Simplicity while solving any complex problems
Reducing the repetitive complaints
Time taken by customer to provide feedback is less than 6 seconds
No customer data collection compliance required
Customer is unaware of the real time live tracking and immediate resolution model, which brings the wow effect in customer experience
AI Enabled problem Identifier to Identify the complex patterns of issues which cannot be manually identified
What is the ROI of Eagle? How does the Eagle platform help to save time and increase productivity by allowing managers to make time for more important business operational matters?
We used to spend a humongous amount of money on marketing gimmicks to ensure that we retained customers. But that rarely paid off in the long run. We were leaking customers badly and didn't know where the holes in the bucket were located. With Eagle it transformed our operations from day one. Our floor managers immediately figured out where the root cause of certain issues were located. And top management were able to dig deeper and discover that we were having quality issues in our supply chain. All from a software that just helps us dig deeper and deeper all the time. The ROI has been enormous and we couldn't recommend Eagle more.
The biggest problem we had was with fake customer reviews. Not that the person is fake, but maliciousness and wrong intent can be seen very easily. However, these reviews tend to take your business down a few notches. All it takes is one bad review to turn away ten customers. With Eagle we now know that our engagement with the customer just became vastly intimate and in the moment. If there is a genuine issue, we are able to solve it then and there. In our business speed is of importance and that is just what we got.
So, Eagle is like a digital cognitive avatar, created with modern technologies of data science and artificial intelligence to help the businesses in following ways:
Happy and Loyal customers
Reduction in repetitive complaints
System and process improvement
Focused and effective digital marketing
Savings on promotions and service recovery
Motivated staff
What else can business owners do within the Eagle platform to collect and analyse real-time customer data?
Eagle just upped our customer game. Before this, we would have used verbal feedback, paper forms, emails and online portals to learn about our customers. Today, we have a real time system that provides us immediate insights into our customers' thinking. What they liked, what they didn't like and most of all an opportunity to understand how we can serve our customers better.
With this feature, Eagle has become our eye on customer satisfaction. The business owners can do a lot of deep analysis of their business process and define the actions to solve the problematic areas which were unidentified initially. Secondly, with the lot of data being generated during this process, this data is used by our AI-Predict model, where the business owners can have a lot of deep insights about the business like customer footfall pattern, sales prediction, manpower requirement, inventory requirement, menu pricing improvements, staff performance analysis, etc
Is Eagle only for F&B customers? Does it have any other applications?
Eagle is all about the service industry, where the B2C customer is directly dealing with the service offerings. It could be any of the service industry like Hospitals, Parlors, Hotels, to name a few. Though we have tested this platform majorly on the F&B sector in the last few months.
What are NJ Group's future plans to continue transforming the future of review systems in the service industry?
Every change in service industry methodologies, positive or negative, is like a chain reaction because of the mouth marketing spreads, which grows continuously ultimately adding or reducing the brand value and profitability. As per McKinsey report, 86% of the customers see the reviews before opting for any service. Which clearly shows the importance of this solution and also justifies the efforts/investments required to achieve this.
So we have strong plans to bring more power of Artificial Intelligence to solve many direct and indirect related matters including sales prediction, manpower planning, menu pricing optimisation, auto-categorisation of issues, problematic sector identification, performance analysis and much more. We also plan to launch the multi-language versions of this platform very soon so as to bring benefits to the majority of the regions.