Netflix has the most satisfied customers in Singapore, followed by Disney+ and Amazon Prime Video.
Latest data from YouGov Profiles reveals that Netflix is, by far, the most popular video streaming service in Singapore today: over one in three (36%) consumers are subscribers. The next most popular platform – at some distance – is Disney+ which one in in six (17%) consumers are currently subscribed to.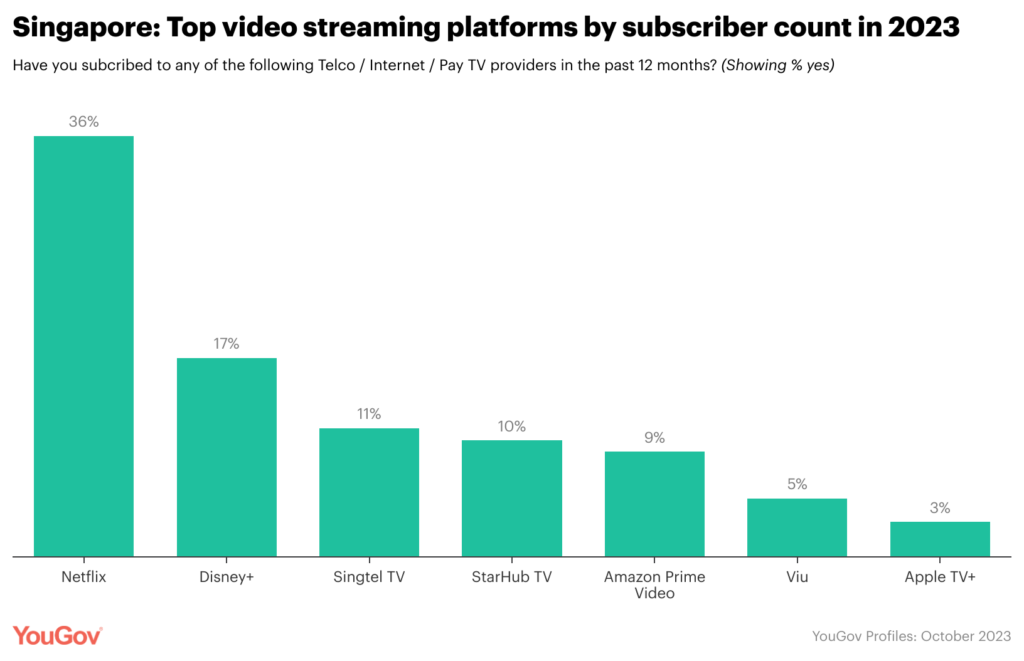 Among local video streaming platforms, Singtel TV (11%) and StarHub TV (10%) are neck-to-neck, with around one in ten consumers indicating they are subscribers.
Meanwhile, less than one in ten consumers in Singapore are currently subscribed to Amazon Prime Video (9%), Viu (5%) and Apple TV+ (3%).
When it comes to customer satisfaction, however, the race is much closer. Netflix boasts the largest proportion of contented customers, with over four in five (83%) subscribers saying they are satisfied with the service.
Disney+ (74%) and Amazon Prime (73%) have the next highest satisfaction rates, with close to three-quarters of subscribers identifying as satisfied customers.
Consumer satisfaction with Viu (68%) is relatively lower – but still largely positive – with over two in three subscribers saying they are satisfied, ahead of satisfaction with Apple TV+ (61%) and SingTel TV (60%) services are around three in five.
Meanwhile, marginally over half of StarHub TV (56%) subscribers say they are satisfied customers.
When consumers who don't currently have a streaming / PayTV subscription were asked why, more than one-quarter cite not being TV watchers (28%) and finding the costs of streaming subscriptions too high (27%) as key reasons.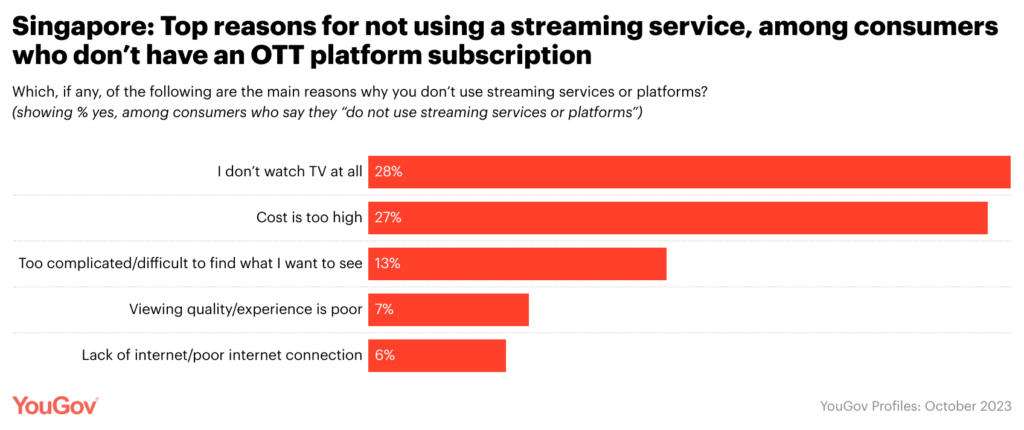 Around an eighth point to having difficulty finding what they want to watch (13%), the next most common factor, ahead of poor viewing quality/experience (7%) and poor or no internet connection (6%) as barriers to taking up a video streaming subscription so far.