How Indonesian fintech BukuWarung is using Twilio to successfully drive customer engagement and build growth.
How can businesses cut through the noise in a crowded marketplace? That was the challenge facing BukuWarung, an innovative Indonesia-based startup currently making waves in the world of fintech.
Founded in 2019, the company started out offering digital bookkeeping solutions for micro, small, and medium businesses (MSMEs). The business grew rapidly, and soon BukuWarung was expanding its offerings to include solutions that enable digital payments and allow merchants to sell their products online.
Today, the company has built up a solid base of over 7 million merchants across the country who rely on its solutions to help them efficiently manage their businesses. "Our products are typically used by store owners from a range of sectors—from food and beverage to fashion—and we're growing fast," said Hariom Meena, Tech Lead Manager at BukuWarung.
But there was a challenge. Online penetration in Indonesia currently stands at about 70 percent, and the country's appetite for digital financial services is rapidly increasing. BukuWarung recognized that when it came to getting its message across to customers, it needed to do more to ensure it could stand out against the competition. For a start, the company was not utilizing a wide enough range of channels, which was hampering its ability to reach prospects and customers. As Meena said, "We realized we needed to improve our ability to connect with customers where they already are—and wherever they prefer to be."
The company turned to Twilio's Programmable Messaging APIs for WhatsApp to help it improve reach via its customers' preferred channel.
Enhancing omnichannel approaches
Initially, BukuWarung built its communications strategy primarily around push notifications and SMS.
"We've always utilized an omnichannel approach. But as we grew, we realized engagement wasn't very high," said Meena. "For one thing, users get bombarded with SMSs and push notifications from different apps, and our messages via these channels were getting lost in the crowd."
There were other challenges, too. "BukuWarung's target market, which includes many traditional mom-and-pop stores, may not always use the most sophisticated smartphone devices. And the problem is that push notification delivery failure can be high among merchants who aren't equipped with powerful smartphones," Meena explained.
However, BukuWarung knew that many of the store owners who use its app were active on WhatsApp. As a result, the company decided to partner with Twilio and refocus its messaging approach.
"We knew that engaging via WhatsApp—our merchants' preferred channel—would give us the flexibility and high delivery rates we needed," said Meena.
"That's why we chose the Twilio WhatsApp Business API. It offers a way to send automated WhatsApp messages simply and securely, creating a superior customer experience in the process. We were looking for an innovative solution that would help us deliver substantial benefits to our customer base, and with Twilio, we found it."
Transforming customer support capabilities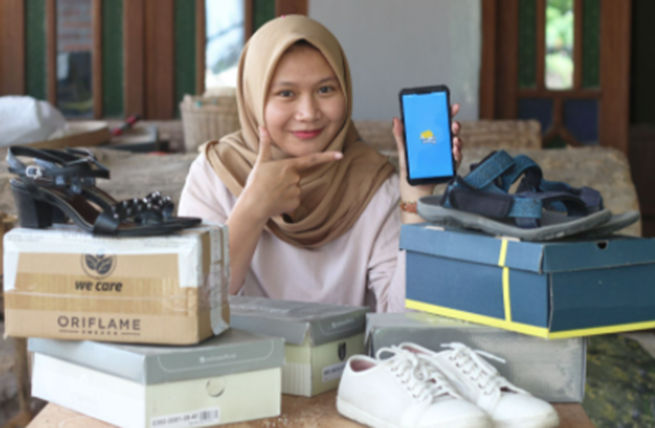 Already, the Twilio WhatsApp Business API is making a significant impact on BukuWarung's business.
"It's helping us improve our processes in so many areas," said Meena. "First, it means we can give our merchants the option of receiving a one-time password (OTP) via WhatsApp when they log in to their BukuWarung digital accounts. As the OTP process adds an extra layer of security, it helps us provide merchants with peace of mind, knowing their credentials are safe."
Second, Twilio's solution allows BukuWarung to automate various customer support processes, so the company can deal with support queries more effectively. "Now, when merchants need to reach out on an issue, it's easy for them to interact with the customer support team via WhatsApp and quickly get the information they need to resolve it."
Third, messaging via WhatsApp gives BukuWarung a fast and efficient way to update merchants on the status of any payment transactions that they may be involved in through the BukuWarung app.
A fourth benefit addresses customer communications more broadly. "Because we know engagement via WhatsApp is high, we've started using it much more extensively for all types of customer communications," said Meena. "That includes sending our merchants business reports on a daily or weekly basis. We're also using it to send payment reminders, and promote new features in our app. And it's now so much easier for us to keep merchants up-to-date on any ledger-related issues as well."