Experiential marketing is among the most sought-after marketing models sought by banks, insurance and fintech companies to tap rural markets in India. Here's how they do it.
Allahabad, India. 2019.
Kumbh Mela is perhaps the biggest religious congregation in India, where an average of 10 million people flock together every single day. To put the figure in better context: over 100 countries in the world don't have that sort of individual population count. So much so, juvenile visitors and senior citizens going missing at the gala event is a common occurrence.
At the 2019 edition, a 'Lost & Found' booth was set up by a popular personal care and cosmetics brand in India. The brand team sponsored and duly assisted the local police in tracking down missing people with RFID wristbands and geo-fencing, powered by GPS and Bluetooth technologies.
Emami, the brand in focus, also simultaneously did something else to promote its own cause. It handed out free samples of its Navratna oil – promoted for its soothing and pain-relieving properties – to the unsuspecting rural visitors that came in search of their AWOL family members. More importantly, the brand collected lakhs of personal data (of this particular Target Group (TG), who constitute an astounding 85-90% of the overall attendance at the mela) in a matter of hours.
Experience to consume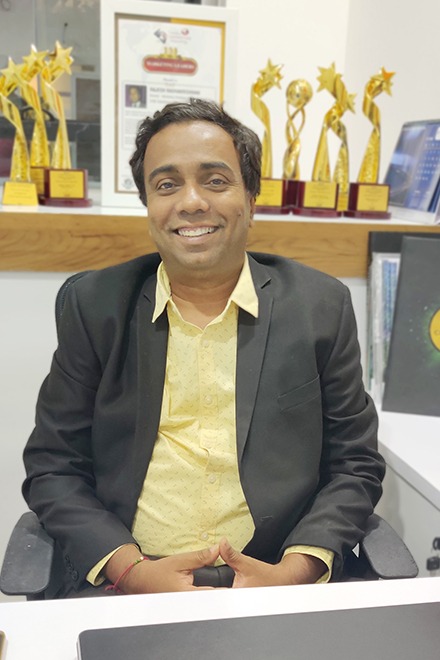 Welcome to experiential marketing! "This was a classic case of purpose-driven marketing. The campaign literally cured the headache of many through a product that perfectly aligned with the concept," informs Rajesh Radhakrishnan, Founder-Director of Vritti Solutions, a digital marketing and solutions provider in India.
Experiential marketing is, apparently, among the most sought-after marketing models sought by banks, insurance and fintech companies to tap rural markets. Post pandemic, there is restriction in the movement of marketing personnel of these players to rural and remote zones. "So, they rely on the experienced OOH players, who have the post-pandemic experience of conducting activation and maintaining strict social distancing," adds Radhakrishnan.
"Most of the Banking, financial services and insurance (BFSI) players have discovered experiential activation is the best way to educate the rural audience about the importance of online card payments, generate maximum downloads for an online payment app, the importance of opening a bank account or an insurance policy. As more and more data penetration is taking place in the rural parts of the country, fintech companies and banks are thinking of tapping rural markets."
Audiowala Bus Stands
According to Radhakrishnan, technological intervention and integration have increased in rural areas over the last couple of days. "Many latest rural advertising campaigns involve modern technologies, such as Augmented Reality (AR) and Virtual Reality (VR). The urban-rural divide is getting bridged recently." Vritti's innovative outdoor advertising and rural activations rely on experiential marketing campaigns and Out of Home (OOH) advertising in the hinterlands of India.
The avenues explored by players like Vritti include bus stands for OOH promotions, Passenger Information Systems (PIS) of the bus stands for audio advertisements – which Vritti chooses to call 'Audiowala Bus Stands' – and buses for brand promotions. The PIS is completely digitally controlled from a centre and produces high definition audio quality. The messages on the PIS could be customised locally. The LED screens display visuals aligned with the PIS, so that people could visually connect with the messages heard.
"Across India, more than 500 bus stands are available for audio advertisements on PIS, including in states such as Maharashtra, Karnataka, Punjab, Rajasthan, Goa, Himachal Pradesh and Haryana. As of today, this medium has the potential of reaching 400 million people every month. The bus stands form the most impactful and cost effective platforms for brand marketing at a per-capita cost of less than a paisa. The crowd is also diverse and big in numbers," explains Radhakrishnan.
Bus stands are positioned to offer a 360-degree experiential marketing experience for the brands, as the brands can communicate, create awareness and engage with customers in a single location. Says Radhakrishnan, "After the audio messages on the PIS (at the bus stand), the brands could entice the customers to visit its booth or a stall at the same bus stand, give a product demo, engage with the customers with offers and enhance their product experience."
Make 'em aware
He reckons that now is the apt time for corporates, government institutions and retailers to cash in on the experiential revolution sweeping through the rural markets. "It is also an ideal platform for banks and fintech companies to educate rural audience on mobile wallets and mobile banking; for NBFCs, insurance companies and agro marketing companies to create awareness about their products; for the local auto, mobile and consumer durable retailers to put up demo display zones to generate enquiries."
Rural customers, however, can't be converted merely with advertising, Radhakrishnan comes up with a disclaimer. "A simple advertisement banner may work for a FMCG product, such as soap or a detergent, in a rural context. However, for a complex product like an insurance policy or online payment, a customer has to be educated on the benefits of having an insurance policy or the convenience of an online payment in the digital era. Experiential marketing is the best way to educate the customer," he justifies.