In this interview with MartechAsia, Cindy Chay and Christantio, the co-founders of short video platform Oneshot, talk about their journey of founding their company and how video can help SMEs and solopreneurs in their marketing efforts.
10 years ago, Christantio (more fondly known as Tio) left Indonesia in search of a better future in Singapore.
Tio came to Singapore to further his studies at Nanyang Academy of Fine Arts (NAFA), Singapore's pioneer arts education institution. His coming wasn't easy, though, as, by nature, Tio was and is still very introverted. To further fan the flames, Tio came from a household that adopts Bahasa as their first language. More often than not, Tio had difficulties communicating with his teachers and friends, especially with the Singapore slang and culture-specific terms. Additionally, Tio also came to realise that the cost of living in Singapore was generally higher! Back home, he set aside $7 for 3 meals a day; however that amount alone would scarcely cover a meal in Singapore!
All these challenges often made Tio feel like an outsider, constantly feeling left behind. However, this did not dishearten him.
Tio began his journey as a student who was first afraid to render designs on Adobe Photoshop, as he often felt that his artworks were never good enough. However, with practice and determination, Tio elevated himself to be the well-sought designer and animator upon graduation and finally started working at The Little Black Book (TLBB), where he met his boss and future business partner Cindy Chay, his co-founder at Oneshot.
Since its launch in April, Oneshot already onboarded more than 50 clients and has more than 250 pre-built and professionally designed templates available on the platform.
In this interview with MartechAsia, Cindy and Christantio talk about their journey of founding their company and how video can help SMEs and solopreneurs in their marketing efforts.
How was Oneshot conceived as a platform and a company?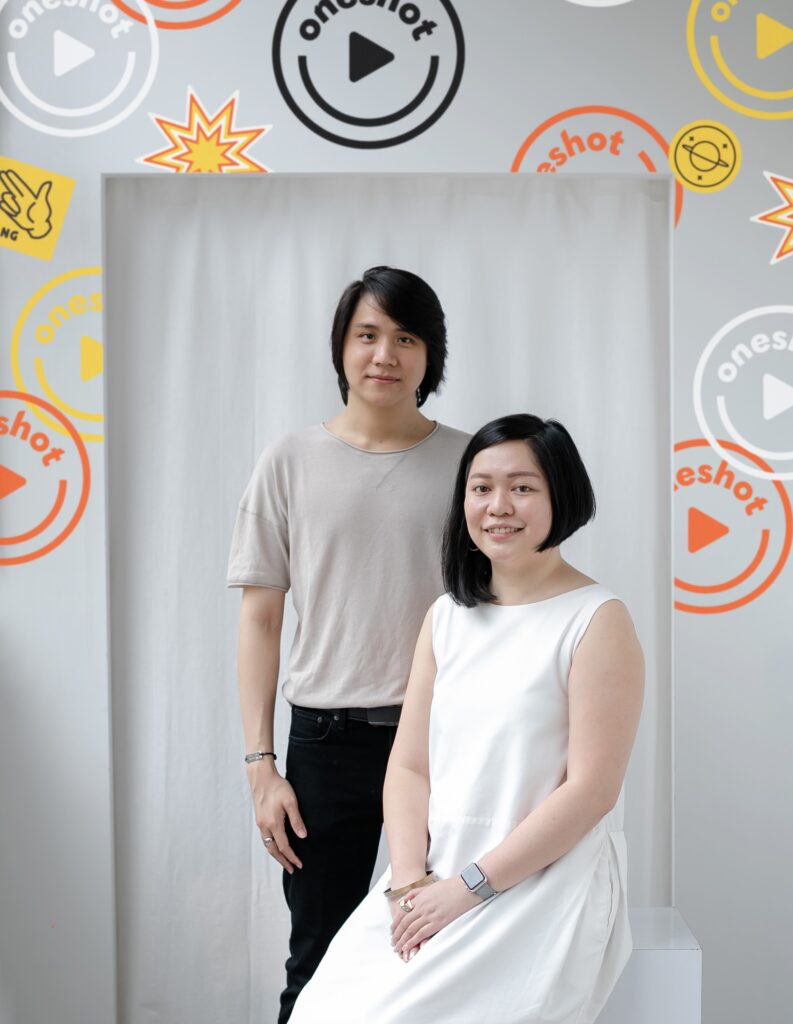 Cindy: It all really began when I started to notice a rising trend in video consumption and video marketing. More brands are using videos and animation to sell their products and build brand awareness. It makes sense because videos are visually engaging and highly versatile. During my time as an account manager in an agency, I noticed that many smaller, growing businesses lacked the resources to invest in videos. It's difficult to create videos yourself if you do not have the knowledge or experience. Hiring production houses or agencies can get expensive, and even if you have the budget to do so, working with an external design team can lead to creative tug-of-wars and broken spirits. One time, while on vacation in Bali, a client called wanting to talk about work. While I was happy to take the call and help my client out, it occurred to me just how great it would be if businesses could somehow DIY their own videos instead of relying on an external agency. An automated process could really help them save time and other resources. So, I thought we could create a platform that would make it easy for anyone, regardless of design and editing experience, to create quality videos.
Tio: I work closely with Cindy and when she first shared her idea with me, I thought, "why not?" and started brainstorming with her to bring it to life. With my experience in animation and design, and her expertise in the marketing business scene, we first began creating templates for a range of industries and then kept fine-tuning the online editing tool to make it super simple to use. In May this year, Oneshot was successfully launched. We kept our experiences of working with clients in mind as we built Oneshot. We know that marketers generally know what style they like, but sometimes lack the knowledge and instincts that professional designers have to create something beautiful and tactical. Thus, we designed Oneshot to make it simple for marketers to pick the style they want without having to worry about the nitty-gritty and technical stuff.
What challenges did the founders face in setting up the company? What is the traction so far?
Tio and Cindy: It would be a lie to say that we have not experienced any challenges. Both of us were used to creating videos for clients, but building a video-making tool was a completely new experience. We had a lot to learn, with plenty of trial and error, since none of us have built such a platform before. At times, it even felt like we had bitten off more than we could chew, but we stayed committed to our original goal of creating a seamless platform with accessible video creation tools. Today, many clients, from retail to beauty and wellness industries, have been using our tools and templates! This is because we provide templates suitable for a whole range of industries on Oneshot. We categorise our templates based on industry and business goals, making it easy for marketers to find templates suited to their needs.
What is the USP of Oneshot? How is it different from other video services platforms?
Tio and Cindy: Quite simply, we are the simplest video creation tool in the market. There are many platforms in the market that offer templates to help their users create videos. However, many of them are not beginner-friendly, with complex UIs that take a lot of time to get used to. For many marketers and business owners who need video content to populate their social media pages quickly, a steep learning curve could be a significant barrier. With Oneshot, we want to eliminate this struggle. Our very skilled team members have years of experience in design and animation, and they have put all of that into creating the amazing templates you see on our website. All users really have to do is to pick their template of choice, and replace the visuals and copy. Oneshot's UI is all point-and-click. It is so accessible and easy to use that a tutorial might not even be needed at all.
How does your company help SMEs with videos?
Tio and Cindy: Our tool is particularly useful for SMEs in Singapore, and even solopreneurs because of the low price point we charge for the high quality and efficient video content they create with us. Many budding and growing companies face financial and time constraints, and our fast and simple tool is particularly useful for SME owners, who might not even have a marketing team, to access and adopt. With Oneshot's affordable price point, SMEs can now dedicate more resources to advertising purposes, as well as more space on their social media pages for video content, without worry about the number of videos they can produce.
Even though our prices are not premium, our templates are very much pro-grade. As mentioned, they are created by professional animators and designers with years of experience, so the quality of our templates is definitely top-notch!
Are companies/marketers using video marketing as an effective tool in APAC?
Tio and Cindy: In the APAC region, we have observed that the marketing scene is slowly leaning towards short and sweet videos with punchy, attractive content. This is particularly so on Facebook and Instagram, as well as TikTok. Their audience also responds to them as well, making video marketing highly effective. Even when we take a closer look at the data, Wyzowl's State of Video Marketing (2021) has also proven that 93% of marketers found that videos have become an essential component of their marketing strategy.
How do you see the popularity of video content on social media?
Cindy: As people become keener and keener to respond to moving visual content, rather than still images, we anticipate that video content, especially short videos, will continue to rise in popularity. Even Instagram, a platform that started as a photo-sharing app, is experimenting with offering its users a more immersive video-based experience. This is great news for marketing teams with a strong design team, and for campaigns that are willing to engage through videos. However, for smaller businesses that have limited resources to hire a team or to engage through large scale video productions, Oneshot is here to help them close this gap.
Tio: I would just like to expound on Cindy's point on Instagram introducing video-making capabilities. Even though apps like Instagram and TikTok do provide some means of video creation, they are more catered to the sharing of personal content rather than more polished brand-related content. So while these services are free, they may not be suitable for businesses. Oneshot, on the other hand, is created specifically for brand-based content. Marketers can easily create videos and upload them to all their brand's social media channels. We will grow our pool of templates regularly, so users can look forward to fresh design options.
Any particular insights to share regarding video marketing with marketers?
Cindy: When you embark on any social media campaign, always be sure to allocate some budget to spend on advertising. It has been observed that for any social media marketing campaign to have a significant effect, your advertising budget also needs to be targeted strategically for your content to reach the right audience. Simply put, you cannot rely solely on organic traffic for your social media pages.
Don't dedicate all of your budget to design works. Remember to dedicate a portion to paid advertising to help put your business in a better position to compete with the bigger players on the various social media platforms.
Tio: Get creative and be aware of your key branding, as well as the key messages you want to send to your audience. It's all right to get some ideas from what other brands are doing but blindly following their lead can be detrimental. Every brand should have its unique voice; what works for others may not work for you. Brands should aim to develop their own personality and create videos based on that. You never know, perhaps one day you'll serve as an inspiration for someone else.