Real-time chat platforms can provide massive benefits to a team's workload, thereby, improving the level of care and attention customers receive.
When customers need help from you, picking up the phone or writing an email may not be the best option for customers who need a quick resolution. Writing emails or waiting to be connected to a customer service representative is time-consuming which can turn away both potential and loyal customers from your brand. For this reason, many customer service teams are choosing to connect with customers with real-time chat services.
Definition of real-time chat
Real-time chat, otherwise known as live chat, is a direct messaging platform where users and customers can immediately converse with one another upon receiving a message, similar to a face-to-face conversation. Real-time chat platforms like Whatsapp, Facebook Messenger, Apple Business Chat, and Line are text-based, users can also send and receive images, videos, and audio with one another. Real-time chat has been experiencing increased popularity and growth, especially in the Asia Pacific region. According to Allied Market Research, numerous industries across the region, including India and China, are using live-chat software to automate and scale their operations.
How real-time chat improves customer experiences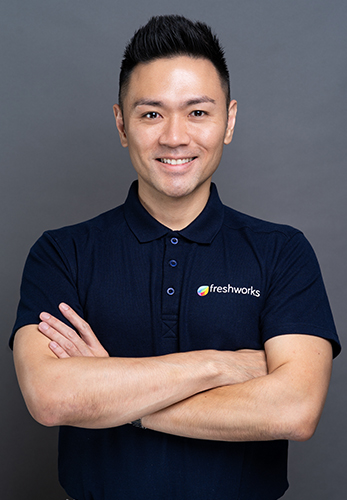 Real-time chat platforms can provide massive benefits to a team's workload, thereby, improving the level of care and attention customers receive. These include:
Faster response to customer queries
Compared to emails and call service, real-time chat platforms allow customer service teams to spend less time dealing with customer inquiries so they can move on to the next one. On average, teams will usually take 46 seconds to reply to live chat messages. In the time it takes a representative to answer a phone call, live-chat users will be able to fulfill several requests. This is crucial in building a positive customer experience for your brand. In fact, a study by EY Parthenon found that 43 percent of Asia Pacific customers are willing to spend more on a positive customer experience

More importantly, customer service teams — and customers — will experience less frustration during communication. With live chat service, your agents will not have to deal with mounting requests and customers will appreciate having their questions answered promptly. Moreover, your agents will be able to report better key performance indicators (KPIs) which translates to a stronger competitive and market value for the organization as a whole.

Helps customer support teams focus on important queries
Some queries don't have to be resolved through a long, extended phone call. Most can be resolved by simply asking questions and providing some helpful information that is relevant to their problems. The problem is support agents do not know which queries require a long phone call and which require a short live-chat conversation.

Live-chat platforms that leverage AI algorithms allow agents to sort through queries that require a quick response and intervention. With frequently asked questions, AI-powered chatbots can simply provide automated responses. If the question is a bit more complex and requires the help of a customer support agent, the chatbot will automatically invite them to pick up on the conversation. Even if they can't resolve the query through chat, they can still gather information like account numbers, query information, and the customer's state of mind. This way, when agents follow up with an email or phone conversation, they can immediately get on with solving the customer's problems.

Building stronger relationships and conversions
With the right tools, real-chat platforms can also engage with customers to assist them in their purchasing journey.

When customers land on certain pages or complete certain actions, you can proactively reach out to check if they need help, answer questions, or provide more information. By doing this, customers will be able to resolve issues, complete purchases, and reduce the bounce rates on your website.

For example, support agents can address customers' concerns if they are spending a certain amount of time on the checkout page without completing their purchase. They can also use conversation history to deliver a more personalized experience that keeps customers engaged with your brand.

A convenient way for customers to connect
A dedicated "Contact Us" page provides customers with a gateway to customer support teams. Even then, some customers may find it a hassle to find the button and click on it, turning potential sales into missed opportunities.

Real-time chat removes those barriers that stop customers from reaching out. Instead of having to open an email or pick up the phone, your customers can just click on your chatbox and start typing to initiate a conversation. With this easy-to-use widget integrated into your website, not only can organizations transform queries into sales, but they can also strengthen a positive relationship with their customers.

Using live chat software for real-time chat
While live-chat software enables users to communicate with customers directly, any good chat software will also contain other features to enhance their customer service offerings. These can include:
a chatbot function that automates replies to FAQs to free up support agents' workloads.
tracking and performance analysis to measure the number of queries agents are handling, response times, the number of resolved tickets, and context into real-time chat usage.
self-service components that allow customers to convey their issues more accurately for quick query resolution.
pre-written responses that allow agents to immediately answer common questions.
chat triggers that lets agents proactively communicate with customers when they complete certain actions or reach a certain page.
integrations with CRM and ERP systems that provide context into customer queries so support agents can provide a more effective resolution.