Untapped potential for Southeast Asia retailers as Singles Day continues to be strongest retail moment of the Double Days in the region.
Criteo recently unveiled its 2023 Double Days Preview report based on the insights from 2022's retail sales data to help brands maximize sales opportunities while delivering an unparalleled customer experience in Southeast Asia (SEA).
The year-end holiday shopping season represents a key moment in time for retailers and brands to create meaningful connections with consumers and Criteo is committed to enabling their success through delivering more personalized ads that resonate deeply with their preferences and desires.
Key insights from Criteo's 2023 Double Days Preview report revealed that in SEA, Double Days recorded more than twice the number of sales compared to the average of the last two weeks of July (18 July – 31 July 2022).
Regionally, Singles Day emerged as the top shopping season with a 139% increase in sales while Black Friday saw a substantial 42% growth. New buyers surged by 335% on Singles' Day, emphasizing the value of acquiring them.
Southeast Asia performance
Criteo's 2022 Double Days report revealed that Singles Day reigns as the prime shopping season for consumers in Southeast Asia (SEA). Double Days occurring during August to December 2022 recorded a triple-digit surge in sales when compared to the average sales in the week of July 18 – 31, 2022.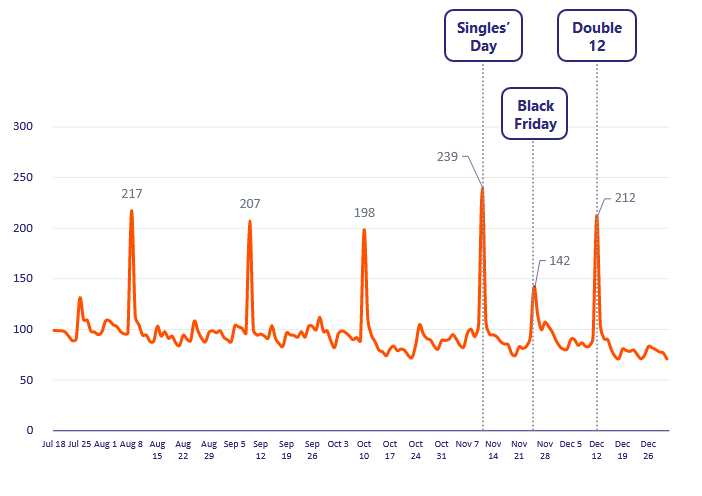 Within the region, Singles Day (11.11) experienced the largest increase in sales (+139%) in SEA with Singapore, Malaysia, and Thailand witnessing the largest spike amongst SEA countries, with an increase of 192%, 214%, and 210% respectively. Regionally, other shopping events such as 12.12 saw sales spike by 112%.
Black Friday also rose in popularity as retailers in SEA saw a 42% increase in sales in 2022, compared to 17% in 2021. This is especially so in countries such as Singapore and Vietnam, which recorded close to 1.5 time increase in sales. In Vietnam, retailers experienced the highest sales growth on Black Friday (+141%), outpacing Singles Day (+90%) and Double 12 (+77%). This is likely due to Black Friday coinciding with the Vietnam Grand Sale 2022, a national effort to boost domestic consumption and support economic recovery in the post-pandemic period.
Divergent sales patterns were observed between mobile apps and web platforms (including both desktop and mobile web browsers). Notably, during Double Days events, specific product categories, including apparel, sporting goods, electronics, health and beauty, food, and furniture, consistently recorded higher sales peaks on mobile apps compared to their web counterparts. This trend can be attributed to the inherent advantages of mobile apps, such as the seamless access on mobile devices, timely push notifications that keep users informed, and the convenience of quickly accessing their wish lists.
New buyer opportunities arise not only before, but also during and after key shopping events. Significant spikes in purchases by new buyers rose by 335% on Singles' Day, and 9% on Black Friday compared to September 2022. In addition, 51% of 2022 Singles' Day new buyers made additional purchases from the same retailer between December 2022 and May 2023, highlighting the lasting benefits of acquiring new customers during peak events.
Unlocking untapped opportunities for the upcoming holiday season
SEA consumers are becoming savvier and shopping earlier before the year-end Double Days Sales. Criteo's 2022 data showed that consumers are embarking on their research journeys earlier to score the best deals. In fact, over a third of Southeast Asian consumers start contemplating gift purchases, with approximately a quarter of them already making gift acquisitions as early as Q2 (April – June), according to Criteo's Shopper Survey for both 2021 and 2022.
As brands prepare for Singles Day this year, these best practices should be kept in mind to maximize success:
Capturing the new buyer opportunity: Singles Day, Double 12, and the Black Friday weekend recorded substantial spikes in purchases made by new buyers. Singles' Day witnessed a threefold increase in new buyers, while Black Friday saw a 9% rise in the share of new buyers compared to September. The peak shopping season presents a golden opportunity to not only boost immediate sales but also to establish lasting customer relationships. Investing in acquiring new peak season customers is a prime strategy, as it often leads to continued patronage. More than half of individuals who were first-time buyers during the 2022 Singles' Day went on to make at least one more purchase from the same retailer between December 2022 and May 2023, showcasing the long-term potential of this approach.
Start planning early: Criteo's Shopper Survey in 2021 and 2022 found that more than a third of consumers in Southeast Asia start thinking about gifts and about a quarter had already bought gifts for the peak shopping season as early as Q2. These early bird shoppers represent a crucial segment for brands to capitalize on. Due to a longer path to purchase, brands should initiate their planning process early to secure a competitive edge and capture the attention of consumers.
Launch campaigns earlier for better customer engagement: The longest peak shopping season path to purchase is about 49 days. Our data also shows that the path to purchase for $500+ items is 48% longer than for items less than $100. According to Criteo's Rise of Savvy Shopper Study, 71% of global shoppers are spending more time online to search for the best offers and values before making a purchase. Peak season campaigns should plan for touchpoints throughout the duration of the longer window to ensure that all journeys are facilitated. That means an even earlier start to campaigns for luxury brands and/or higher price point items.
"In the dynamic world of commerce, our insights from 2022's Double Days reveal a clear trend – seasonal sales are a marathon not a sprint," said Taranjeet Singh, Managing Director, Enterprise, APAC. "At Criteo, we eagerly anticipate each year's insights as an opportunity to empower our brand and retail partners in aligning consumers with the essentials they seek, fostering meaningful connections. By integrating data and technology, supply and demand, and online and offline realms, we empower brands to construct a comprehensive peak shopping season strategy that ensures an unparalleled multi-touchpoints customer journey."