Here's a brief overview of what organic search, done right, can offer brands in APAC.
The acceleration of digital adoption in APAC post-Covid has been nothing short of breathtaking. McKinsey recently calculated that four years' growth was achieved in just one year in Asia, against a global average of three. Rapidly rising demand brings opportunities for online retailers, but also challenges if they fail to respond robustly and build for resilience. An emerging trend in this respect is how Asian brands are turning to organic search as a sustainable performance-marketing channel, adopting tech-enabled strategies to ensure search serves their brands over the long term. Here's a brief overview of what organic search, done right, can offer brands in APAC.
Enhance the customer journey
Organic search is a way for brands to engage with customers at all points of their journey. Research from Rakuten Advertising recently revealed that 64% of APAC consumers discover brands through search. More than 80% of APAC consumers conduct online research to inform decisions. These consumers are also increasingly discerning about the results they trust, scrolling past paid advertisements which are deemed less relevant to their queries. Organic search results are reputedly clicked on 20 times more frequently than pay-per-click ads, while globally about 94% of all search traffic is attributable to organic results. Even as brands pivot to capture mobile-first customers to become the next super app, they can't afford to neglect their websites as a key channel, and search as the key to unlock value through the entire customer journey.
Control your brand longer term and gain clear ROI
Organic is good for marketeers too, promising greater control of their brands over the long term. Paid gives instant gratification on rankings, with diminishing returns from your budgets. And if you fail to pay you fade away. SEO done right builds for the long term, developing deeper and more authentic brand relationships built on earned trust. As organic search contributes a full third of all e-commerce conversions, a robust strategy delivers direct and scalable ROI. To cite just one example from our client base in APAC, a global Food & Beverage retailer in Japan recently achieved 29X ROI by investing in SEO and adopting an enterprise solution, enabling their new online ordering channel to grow sales over a 12-month period. A recent Forrester Report suggests enterprises can achieve a 587% ROI from such solutions, with a less than 3 months payback period.
Be found through a full funnel approach
And organic is good for enterprises, if they approach SEO holistically. Which means adopting tech-optimised solutions built for the way search infrastructure works – but often doesn't – especially for larger ecommerce websites. The reality is, the more you have to offer (in terms of products and pages) the more you stand to lose if Google's bots are failing to find your content. And fail they do, as they struggle to keep pace with the sheer size of the web and the volume of requests. And if Google adopts the IndexNow protocol as proposed, this will mean a further reduction of its resources to crawl the web, and further pressure on enterprise websites to adapt to serve search infrastructure.
Search is a funnel, involving five sequential stages, starting with crawl. What doesn't get crawled can never be discovered on a search engine results page, with no hope of converting customers. For organic search to unlock revenue this full-funnel approach is essential.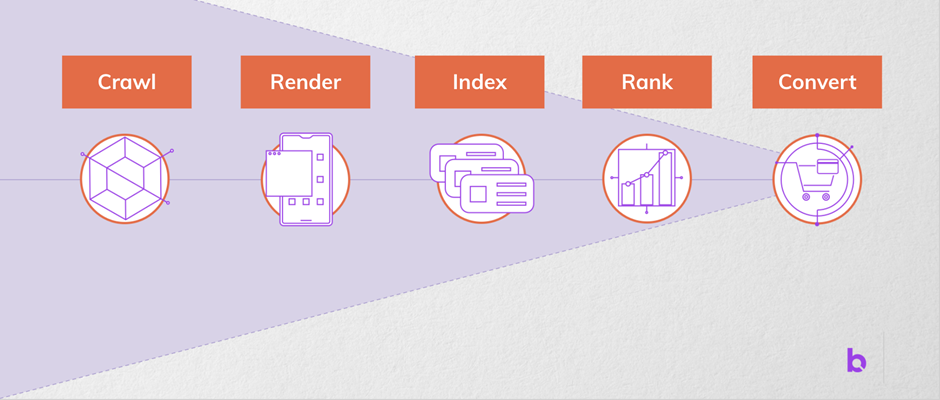 Each site must be crawlable by a search engine and renderable as images and text in a way that search engines can process. The result of this is the indexation – or placement of those pages on the search engine results page – for an opportunity to rank for user queries. All of this must happen before the website can draw impressions, clicks, and conversions.
As the web continues to grow exponentially, and sites increasingly use JavaScript, search technology trails behind demand volume, compelling Google to restrict time and resources for crawling most enterprise websites.
The result? Less than half of an enterprise website's pages are being crawled by Google, with significant potential for traffic and revenue being lost.
Tech-enabled organic is built to meet such challenges, deploying machine learning and AI tools that mirror Google's capabilities without crawl budget limitations, while mining first-party data to uncover virtually every detail of even the largest sites. From analytics to actionable SEO insights, such holistic approaches allow enterprises to leverage organic search as an efficient, measurable, and sustainable channel for growth. A channel equipped to respond to both the opportunities and challenges of rocketing ecommerce adoption in APAC.
As digital adoption and ecommerce growth show no signs of slowing in APAC, marketeers' interest in organic strategies to control their brands and gain ROI, is likely to grow accordingly.
If you'd like to share your comments, just email me at cyril.bedat@botify.com